Herbal tea of of Artemisia annua is considered a fairly safe product, except in allergy sufferers. It is not recommended for use by pregnant and lactating women .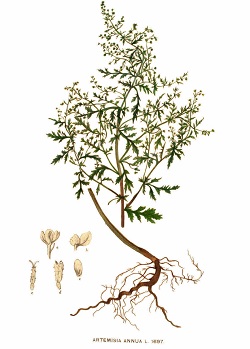 Among the possible side effects are to be noted:
Diarrhea;
He retched;
Abdominal cramps .
In allergic people it may cause reactions such as skin irritation, hives and cough.
Hydroalcoholic extract and artemisinin in tablets
In the case of the hydroalcoholic extract of Artemisia annua and of the artemisinin dry extract , it must be borne in mind that we are talking about concentrated formulations, which can have even important side effects.
Annual mugwort in these solutions can be toxic if taken regularly and in the wrong dosages. In particular it has harmful effects on the nervous system . For this reason, during the therapy it is advisable to be followed by a good doctor, or naturopath, expert in medicinal plants.
Also in this case it is better to avoid its use during pregnancy and lactation.
Artemisia annua in all its formulations are contraindicated for those suffering from gastritis and epilepsy .
Pharmaceutical interactions
Artemisia annua can interact with some medications, so if you take any medications before taking the plant, talk to your doctor.